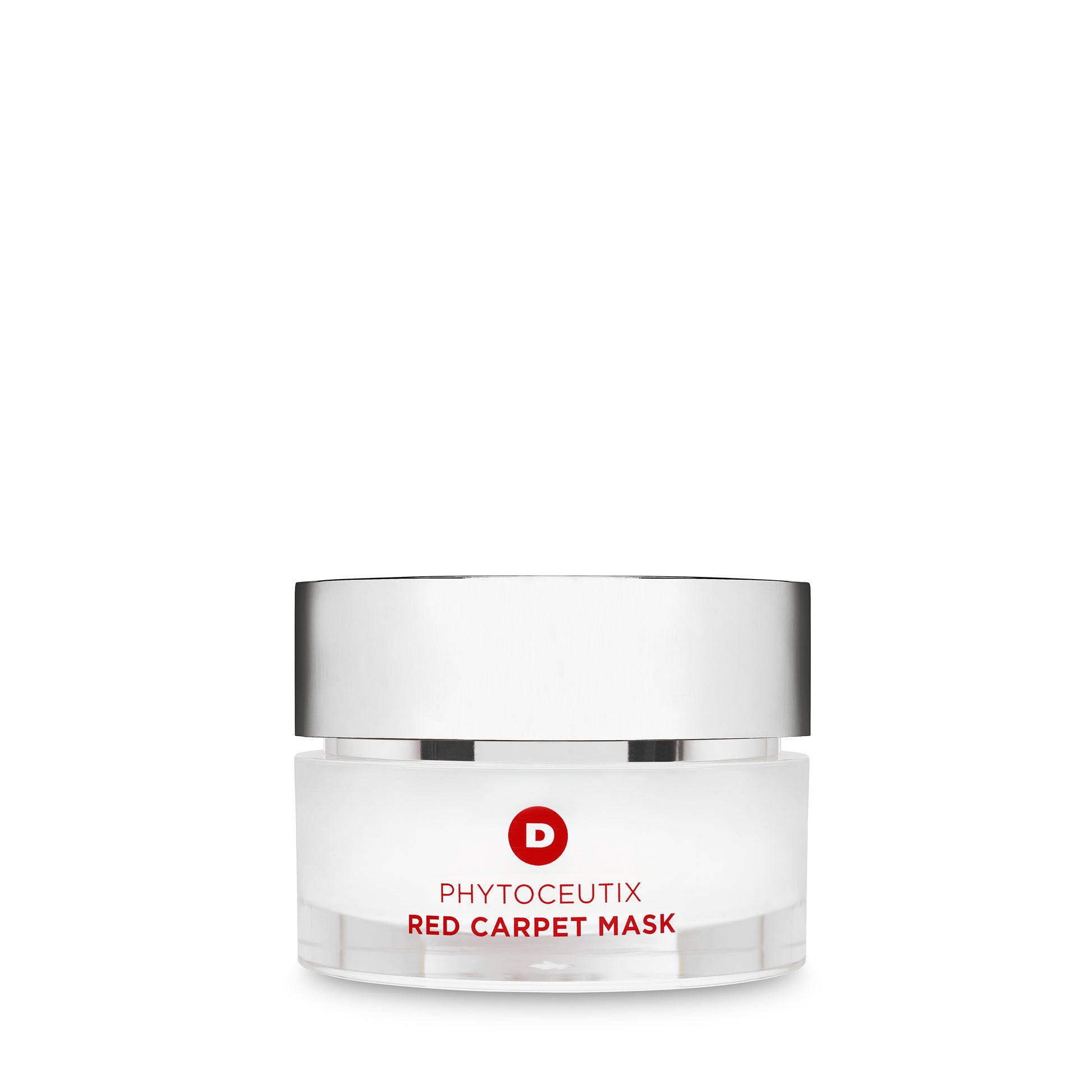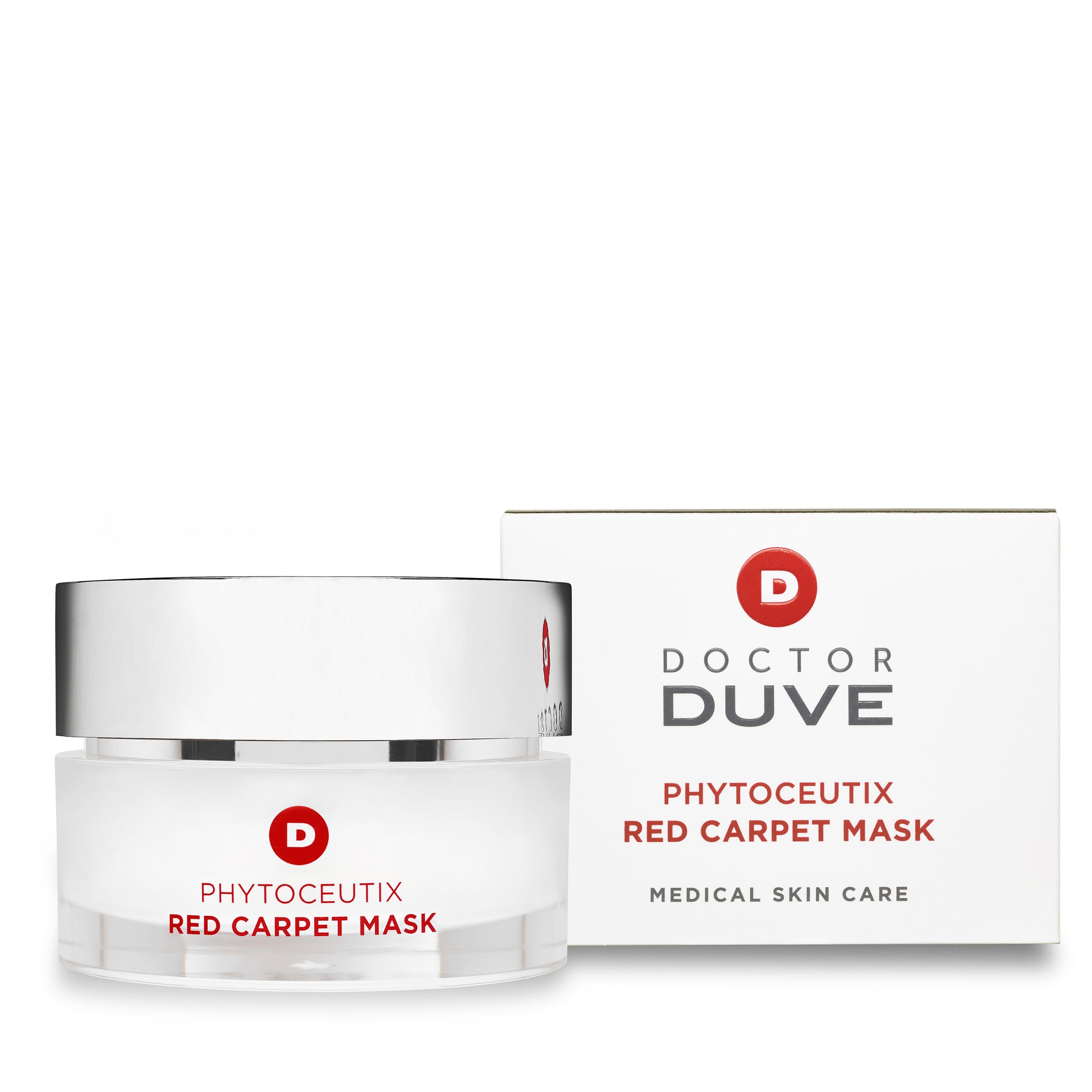 Phytoceutix Red Carpet Mask (50ml)
Sale price
84,00€
Regular price
Tax included.
Phytoceutix Red Carpet Mask (50ml)
Produktdetails & Anwedung
Versandinformationen
Details
It doesn't always have to be the red carpet. Even in everyday life we often have the need for a quick beautifier that simply conjures away fatigue and sallow complexion! Doctor Duve's new Phytoceutix Red Carpet Mask provides that instant effect we so often crave - in just 15 minutes! The high content of anti-aging active ingredients immediately gives the skin a more youthful, vital appearance. The main contributor to the youthful glow is the herbal alternative to retinol: Vigna Aconitifollia Seed Extract. As with PHYTOCEUTIX NIGHT CREAM, Dr. Duve has chosen this effective botanical anti-aging ingredient, which is extracted from the Indian mat bean. It has a similar effect to retinol, but convinces with its higher stability and excellent tolerability - even for sensitive skin.
Another anti-aging booster with which the mask pampers the skin are the Hyaluronic Filling Spheres.They not only moisturize, but also help to improve the elasticity of the skin. This is a special cross-linked hyaluronic acid in the form of tiny spheres. These are dehydrated and can thus reach the lower layers of the skin. When they come into contact with water, they immediately fill up. They bind water, swell up and thus pad the wrinkles from the inside.
Thanks to the brightening effect of the beauty vitamin niacinamide (vitamin B3), the skin's appearance is particularly even and balanced. In addition, niacinamide protects against moisture loss and balances sebum production. Therefore, the active ingredient is suitable for both oily and dry skin.
To give the skin new energy and make it glow, nonapeptide helps. It activates skin cells, optimizes skin energy and makes the complexion appear fresh and revitalized. This energy kick, with its combination of the most exclusive active ingredients, provides a radiant complexion with plumped up skin in just 10-15 minutes. Signs of fatigue and the traces of everyday life seem to be blown away.
Application
Apply the mask generously to cleansed skin. Leave on for 10-15 minutes and remove or pat in the rest with a tissue.
Tip from Dr. Stefan Duve
Masks are the ideal addition to the daily skin care routine, they are perfect for intensive skin care. The longer application time and highly concentrated active ingredients help to optimally nourish the skin. Especially in times of increased strain and stress, the Phytoceutix Red Carpet Mask has a wonderfully balancing and revitalizing effect.

Es gelten folgende Bedingungen:
- die Lieferung der Ware erfolgt weltweit.
- Versandkosten (inklusive gesetzliche Mehrwertsteuer)

Lieferungen im Inland (Deutschland):
Wir berechnen keine Versandkosten.

Lieferungen ins Ausland:
Versandkosten in EU-Staaten:
Standardversand 5,70 Euro.
Kostenloser Standardversand für Bestellungen ab 150 Euro.

Versandkosten Schweiz, Liechtenstein, Großbritannien, Norwegen, Island:
Standardversand 22,50 Euro
.
Ab einem Netto-Autragswert von 100 Euro versenden wir mit DHL Weltpaket Premium (bis 5 kg: Versandkosten 7,50 Euro).

Die Warenrechnung ist ohne deutsche Mehrwertsteuer, es fallen Zollgebühren an. Für alle anderen Länder freuen wir uns über Ihre Anfrage unter info@doctor-duve.com.