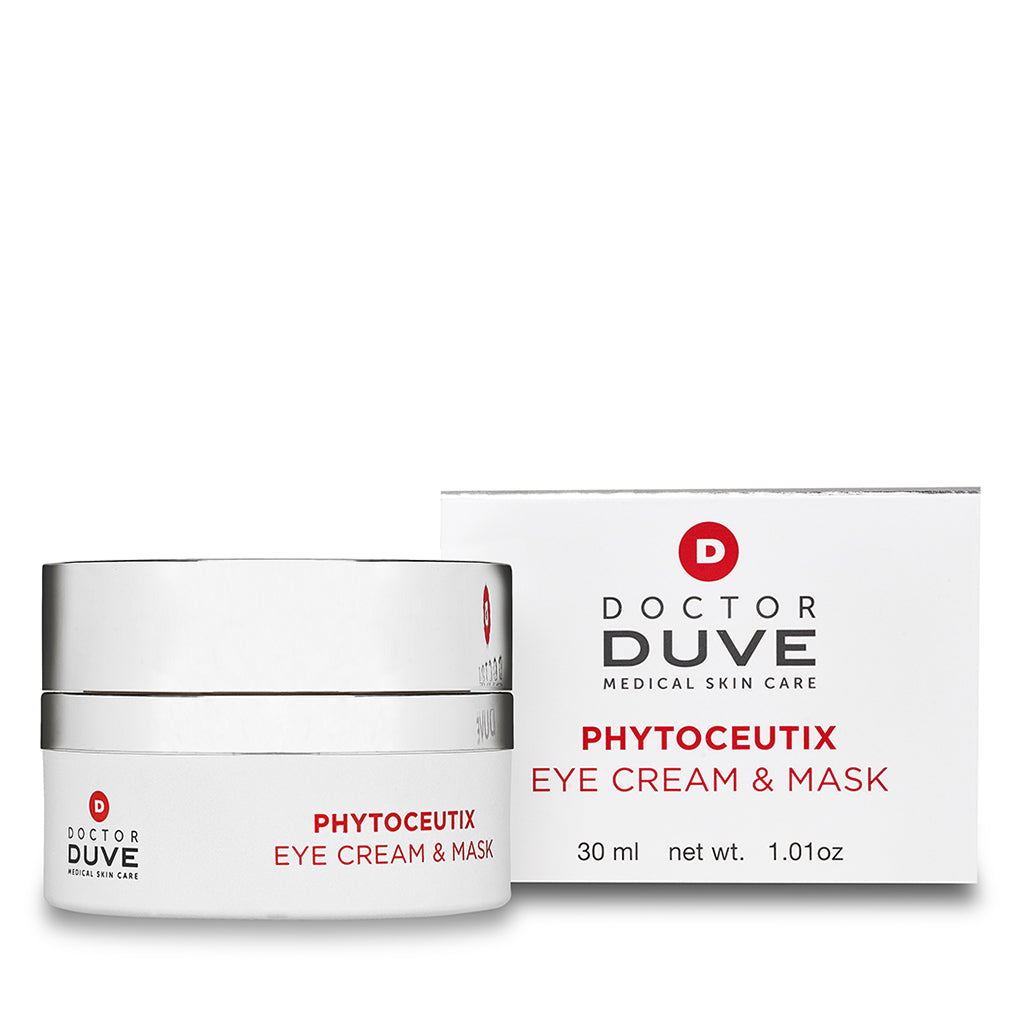 Phytoceutical Eye Cream & Mask (30 ml)
Sale price
125,00€
Regular price
Tax included.
Phytoceutical Eye Cream & Mask (30 ml)
Produktdetails & Anwedung
Versandinformationen
Details
Highly efficient active plant ingredients (phyto = Greek for plant) nourish, smooth and cushion the delicate skin around the eye in a natural way. BioNymph peptides, a 360-degree anti-aging active ingredient based on amino acids, play a central role in this process. It reduces wrinkles, makes the skin more elastic, stimulates cell activity and collagen formation and reduces the production of free radicals. Dr. Stefan Duve has combined it with shea butter, which accelerates cell regeneration, and hibiscus vita, which provides the sensitive eye area with extra moisture. The Phytoceutix Eye Cream & Mask is very well tolerated and can be used both as an eye cream and as a mask.
Application
Apply a small amount to the eye area (e.g. with Glowskin Glycolic Rich Cleanser) in the morning and/or evening and pat in lightly, keeping at least 5 mm distance from the upper and lower eyelid. As a mask, apply a slightly thicker layer 1 - 2 times a week, leave on for 10 minutes, then gently pat in or dab off the rest.
Tip from Dr. Stefan Duve
"Nothing is as associated with age as wrinkles around the eyes or dry skin in this area, and no area is more sensitive and needs more care than the area around the eyes. This is why the highest level of sun protection, rich care in the morning and evening and, especially in winter, masks or steam baths are so important. And there is no place where a lack of fluid is as severe as in the eye area. Make sure to always drink plenty."
Es gelten folgende Bedingungen:
- die Lieferung der Ware erfolgt weltweit.
- Versandkosten (inklusive gesetzliche Mehrwertsteuer)

Lieferungen im Inland (Deutschland):
Wir berechnen keine Versandkosten.

Lieferungen ins Ausland:
Versandkosten in EU-Staaten:
Standardversand 5,70 Euro.
Kostenloser Standardversand für Bestellungen ab 150 Euro.

Versandkosten Schweiz, Liechtenstein, Großbritannien, Norwegen, Island:
Standardversand 22,50 Euro
.
Ab einem Netto-Autragswert von 100 Euro versenden wir mit DHL Weltpaket Premium (bis 5 kg: Versandkosten 7,50 Euro).

Die Warenrechnung ist ohne deutsche Mehrwertsteuer, es fallen Zollgebühren an. Für alle anderen Länder freuen wir uns über Ihre Anfrage unter info@doctor-duve.com.
Nach einigen Wochen der Anwendung der Phytoceutix Eye Cream & Mask fühlt sich meine Haut fester und straffer an.
Ich bin begeistert von der Phytoceutix Eye Cream & Mask! Meine Augenpartie sieht glatter aus und die dunklen Schatten sind weniger geworden.
Ich habe die Phytoceutix Eye Cream & Mask ausprobiert und meine Haut fühlte sich gut an, aber ich habe keine dramatischen Veränderungen bemerkt.
Die Phytoceutix Eye Cream & Mask hat meine Augenpartie gut hydratisiert, aber ich hätte mir mehr Anti-Aging-Effekte gewünscht.
Zieht schnell ein
Die Phytoceutix Eye Cream & Mask hat eine leichte Textur und zieht schnell ein. Perfekt für meine tägliche Hautpflege!